Update: A shortened far less ad hominem version of this has been published in Commonwealth Magazine.
Every so often an article comes along which is so inane, so poorly researched and so utterly stupid that it requires a line-by-line refuting.
The article in question, which has a dateline of March 31 so I'm assuming it's not an April Fools joke, is:
End downtown Boston's busmageddon Add reworking bus routes to the MBTA's to-do list
Oh boy.
The first four paragraphs go on about how people are taking public transit in Boston. Fine. Then you get to paragraph 5:
We need a comprehensive policy regarding usage of the public way.
Good! We agree. We do need a comprehensive policy regarding usage of the public way. Right now, approximately 75% of the roadways in Downtown Boston are dedicated to automobiles. Another 20% are sidewalks, and 5% are bike lanes. Yet the number of cars is decreasing (to quote the author two paragraphs earlier), and the majority of people coming to Boston don't use cars. So why do cars (as usual) get the vast majority of space? Why should they get all the real estate if they only account for a minority of travelers? Who knows.
Loading must be done during limited hours, as is the case in other great cities.
Loading? Fine. That's a halfway-decent point. Care to elaborate? (Apparently not.)
To keep the city from devolving into perpetual gridlock, we also must address tour buses and MBTA buses downtown.
Boston has no through bus routes through downtown, the only city in the country to do so. Perpetual gridlock? How much of the gridlock downtown is caused by buses at Haymarket (in their own terminal, mind you), the Franklin-Federal loop, the Silver Line and a few other sundry routes, as opposed to, say, tens of thousands of cars trying to ply narrow streets downtown? Tour buses? Sure, get rid of those space-hogging menaces. But getting rid of a few MBTA buses? Please.
And what of these other great cities? What do they have in common? London? Bus lanes. New York City? Bus lanes. Minneapolis? Double bus lanes. Boston? Well, we have the Silver Line, but it barely has bus lanes downtown.
Let's get the buses off of our streets so that pedestrians and bicyclists can be safe.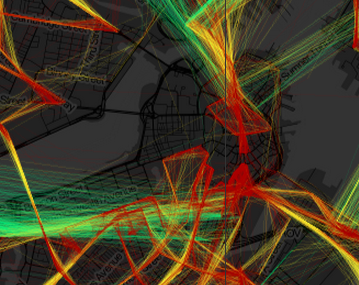 Red herring! Red herring! Red mfing herring! T Buses account for, oh, maybe 2% of traffic downtown. Maybe. Probably less. Certainly far less than any other city in America. Take a look at Bostonography's great bus speed map (a screen capture to the right). Notice that there is actually a gap in Downtown Boston with no bus service. Compared to nearly any other city in the country, Boston has less bus service in its downtown. Other top bicycling cities like Minneapolis, Seattle, San Francisco and Portland have many more buses, yet no one is demanding that buses be pushed to the outskirts there.
Yet buses are menace to pedestrians and bicyclists? Should we consider doing something about the other 95% the traffic downtown? The cars? Or are pedestrians and cyclists somehow immune to them?
As Doug Most reminded us in The Race Underground, Boston constructed the first subway tunnel in the late 1890s to get trolleys off the street; we can certainly do likewise today by making good on the commitment to a tunnel connecting South Station with the Silver Line spur that heads to Dudley Square.
Oh, good lord. Yes, we could spend $2 billion to build the Silver Line Phase III tunnel. Somehow this would solve all of our transportation problems. Except for the buses going to Haymarket, South Station and all of the express buses. It wouldn't really get any cars off the street (although by his logic, cars on the street aren't the problem). It would create a low-capacity, slow route that could be replicated for 1/100th of the cost with signal priority and bus lanes. But that might impact cars and their drivers dense enough to think the best way to Downtown Boston is to drive.
There is also no reason why people wanting to go to Salem should have an express bus waiting for them around the corner from Macy's …
Most people going to Salem don't wait by Macy's: they wait at the Haymarket bus station. (Also, if you're actually from Boston, it's Jordan Marsh. But I digress.) It's not perfect, but it's covered, and the buses pull in to a busway to load and discharge passengers. But so what if they do? Downtown Crossing is right in the center of the city. If we make people from Salem walk ten minutes, or squeeze on to an already-over capacity subway train, they're more likely to say "the hell with it" and drive. Do cars cause congestion? Or just the 16 buses per day that run from Salem to Downtown Crossing?
… nor should city street patterns necessitate that a bus make a left turn from a right lane to meander through downtown streets to get to the Mass Pike.
The 500-series buses do load on narrow streets and have to reach the Mass Pike. Why? Because they are basically the replacement for the other two tracks of the Boston and Albany railroad. When the tracks were paved over for the Turnpike, the 500-series buses replaced local service there. There were proposals in the '40s to run service similar to the Highland Branch from Park Street, out the Tremont Street portal, on to the tracks parallel to the current Worcester Line, and out to Allston, Brighton and Newton (huge file here). Instead, we had got the Turnpike, which express bus service, which is express until it sits in Turnpike traffic. If you hadn't built the city for cars, you wouldn't have to worry about the buses; the streetcars could be underground in that aforementioned tunnel.
Large buses making wide turns on narrow downtown streets, even more narrow because of mounds of snow, clog the streets and imperil the safety of the public.
Large buses clog the streets? What about parked cars? What about moving cars in traffic? How about we eliminate downtown on-street parking and give the buses their own lanes, and make sure the mounds of snow are removed from them. And do only the buses imperil public safety? No pedestrian has ever been killed by a car, right?
We should eliminate bus lines which make no sense and relocate the terminus of lines now heading downtown to South Station and North Station …
We have an intercity bus terminal at South Station. It's at capacity. There's no way to add T buses in to it. And it's a five minute walking transfer to the already-over capacity Red Line. The current routes that could conceivably go to South Station aren't perfect, but they seem to work. Maybe we should create a network of downtown bus lanes instead? Cyclists and pedestrians would know where the buses would be, and it would help buses move through downtown more quickly.
And North Station? That's why we have the Haymarket bus station. It has room for buses and easy connections to the Orange and Green lines. Perhaps when the Government Center Garage is rebuilt, it will include a better bus terminal and connections, and bus lanes across the bridge to rebuilt bridge to Charlestown.
… where there is access to underground transit, commuter rail and the interstate highway system.
Yes, there is access to underground transit. That's all well and good. Except that underground transit is growing faster than other parts of the system, while struggling with decades-old equipment and overcrowding. Most downtown buses operate like commuter rail: they go from the suburbs to the city. There's little need for passengers to transfer to commuter rail, rather they want to transfer to their place of work. Instead of dropping people at the outskirts of downtown, we should have more central bus routes that balance operational efficiency with getting people where they want to go. Give as many people a one-seat ride and a comfortable place to wait, and they'll be more likely to ride.
Even as we eagerly await the Red Sox return to Fenway Park, and the melting of the last mounds of snow (most likely in that order), we should be thinking – and planning – ahead.
If you really want to encourage safer streets, getting rid of transit is certainly not the way to go. Planning ahead will certainly be important, but let's plan the right way. The right way might be a congestion charge, to get cars off the streets at peak times. The right way might be to build bus lanes so that bus riders have seamless trips through downtown to their destinations. The right way might be to require tour buses, an actual menace to pedestrians and cyclists which provide no actual public good, to stick to certain streets, routes and times.
Or the right way may be to raise the goddamn parking tax. Right now, Boston has one of the lower parking taxes around. Because parking is very much constrained, it is not subject to the whims of supply and demand: a daily tax on parking spaces would likely not even affect the consumer price much, but move some of the profit from the property owners to the city. Given the negative externalities of cars on city streets, and the fact that most people utilizing parking spaces are from out of town, the city should raise taxes and use the money to improve public transportation, perhaps starting with, that's right, buses.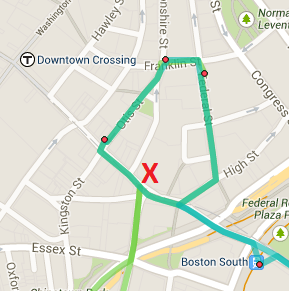 So the right way is not to demonize public transit and couch it in the guise of pedestrian and bicycle safety is disingenuous at best. Ignoring the fact that nearly all traffic downtown is made up of cars driving on subsidized roadways and offering debunked solutions is a farce. Note the red X on the map to the right. It shows the location of the author's office in relation to the 448/449/459 and 500-series bus routes in Boston. What are the chances he's just rubbed the wrong way by seeing a bunch of buses outside of his office? You know, buses that make it really convenient for people to get there?
Let's build better bus facilities. Lincoln Street and the Surface Artery which all the 500-series routes follow have plenty of room for a bus lane (Lincoln Street has two lanes of traffic and two of parking). Federal has parking on both sides. Why not take some of that space which is making the streets narrow and dangerous and use it for buses? It might make it a little less convenient for Mr. DiCara to drive there. That's probably his real beef.
And Commonwealth Magazine should be on the hook, both for not fact-checking this article, and for letting someone with no actual expertise in the industry write it in the first place. Just because he saw a lot of buses at Lincoln and Summer one morning doesn't mean that they're the problem. I wonder how he gets to work, anyway?