This is the final in a series of articles about the place and practicality of bus rapid transit in Boston. Previous installments can be found at this link, or below:
and finally, this conclusion discussing how to build a better transportation network.
The Boston BRT report's heart is in the right place. They want better transit. But we don't just need a better bus rapid transit network. We need a better transportation network. Let's not fight mode wars, let's leverage the resources we have, and work towards a better network and better transit all over.
A recent article in NextCity put it well: the US can't afford "nice" transit, so people fawn over BRT. And it works, in places. But this is a false dichotomy; it sells ourselves short. If we push BRT when another option would make more sense, it's a square-hole-round-peg solution and we're bound to have a system that is either underutilized or over capacity. No one mode is always the answer. If someone publishes a study positing that, we should ask if it is actually proposing a solution, or an agenda.
What Boston does need, wholesale, is a better transportation network, with improved hub-and-spoke routes and, especially, better connectivity to growing urban activity centers. In the early 20th century, transportation infrastructure focused on the center of the city, with high capacity transit converging downtown. Later in the 20th century, most transportation infrastructure focused growth on the outskirts, accessible only by road. (Every so often someone proposes bus rapid transit or a monorail or something along 128, but that's a lost cause. The employment density, with offices scattered amongst sprawling parking lots a mile from the roadway, is way too car-oriented for effective transit of any type. Last mile shuttles can provide decent connections for some employees; most others will have to brave traffic; any other transit is massively subsidizing car-oriented development.) Many other cities are continuing down the downtown-suburban split: even in San Francisco where tech companies either hole up in downtown towers or sprawling suburban office parks all but inaccessible by transit and reliant on highly subsidized corporate shuttles which are still at the whims of traffic.
Boston has managed to establish growing, dense and urban recent development focused in Longwood, Kendall, the Seaport and similar areas. While not as accessible by transit as downtown, they're close enough that the just last mile needs to be solved or enhanced to leverage the existing transit network. (Apple, for instance, is building a "transit center" in to their huge new campus. That's the last mile. Unless they can build a bus lane on 280, they just have to figure out the first 40; their goal is to have just 2/3 of their employees driving alone to work; neither Kendall, the LMA or even the Seaport is nearly that high.) Boston is lucky: many of fastest growing large employment centers are dense, transit-oriented and close together.
They just need more and better transit. Boston needs to go from hub-and-spoke to a network. It's a hard choice to make, and system expansion needs to dovetail with system maintenance; one can't cannibalize another. But while Boston's hub-and-spoke network doesn't serve the next century particularly well, that can be remedied, and improve transit for all. And better buses are certainly part of this solution.
But only part. In the past two posts, I've gone through many of the routes proposed by the ITDP and myself, and examined which mode would be best, how they would interact with the current transportation system, and how they would form a better network. And, as I am wont to do, created a map: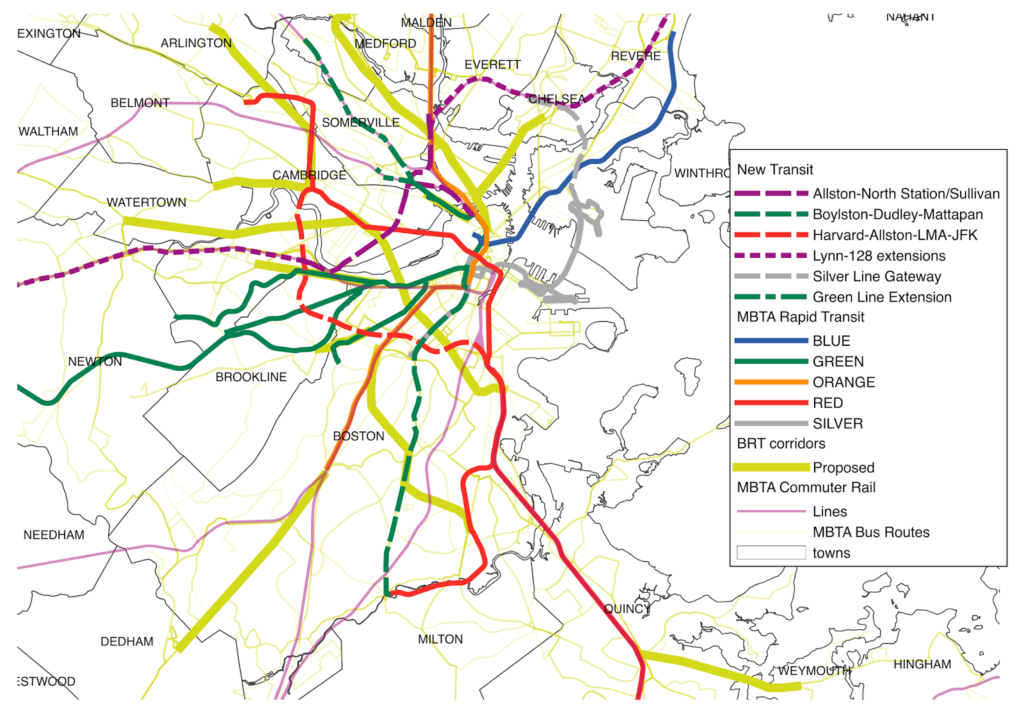 There's a lot of BRT on that map. It acts as a feeder service to transit lines, as crosstown routes, and to speed transit through major chokepoints. Of course, none of these would likely qualify for "gold standard" BRT. All would be cheaper, and are in corridors where they are the right solution, not something that would work well in Bogotá or Mexico City transplanted in to Boston. The rest of the network builds much of the Urban Ring—not with a zigzagging overbuilt bus route—and adds significant capacity to the system. It solves huge last mile issues to the commercial nodes in the city, and good circumferential routes will take a lot of connections and take pressure off the downtown routes. It leverages huge portions of the existing network—especially the Commuter Rail lines—and brings them closer to the quickly-growing areas. By doing so, it brings much more housing, both in the cities and the suburbs, within a reasonable transit commute of most major downtown employment nodes.
It's a network. It connects people to jobs. It encourages mode shift. It provides system redundancy, so if one line has issues, there is another way around. It brings good service to underserved neighborhoods, it puts many more people's jobs within the reach of commuter rail termini, and it doesn't force everyone to transfer through downtown, or take a slow bus through rush hour traffic. It is not focused on one mode over another: some work well with buses, others with light rail, others with heavy rail, and still another (the Grand Junction and its extensions) with an RER-style commuter line operating at high frequency. It provides the kind of system the city needs to grow without overstressing the infrastructure we have now. But it doesn't put all the eggs in one modal basket.
If we are going to have dreamy, long-term proposals about transit in Boston, let's at least have some that fit in with the system we have, not the system on another continent.