A Twitterer recently found a 1972 plan for transit-level service along many of Boston's rail corridors and was floored that ridership on what we now know as Commuter Rail at that time was only 16,000 per day (it was 80,000 in the '40s and now hovers around 70,000). It has indeed grown, especially the South Side lines: in 1972, only 600 people rode the Worcester Line daily (the then-speedy Mass Pike having recently opened); many single Worcester Line trains now carry that many; the line has grown more than 15-fold over the past 40 years.
But the time of impressive growth is even more impressive: in 1981, ridership on Commuter Rail still hovered around 17,000. And then it began to grow. By 1990, it had more than doubled. And during the 1990s, it more than doubled again, so that by 2000 there were more than four times as many riders as there had been two decades before. Some of this is attributable to extensions after service cuts in the '70s, and new service on the Old Colony Lines. But a lot is due to the revitalization of downtown Boston following the growth of the 128 corridor, worsening traffic, and higher parking costs.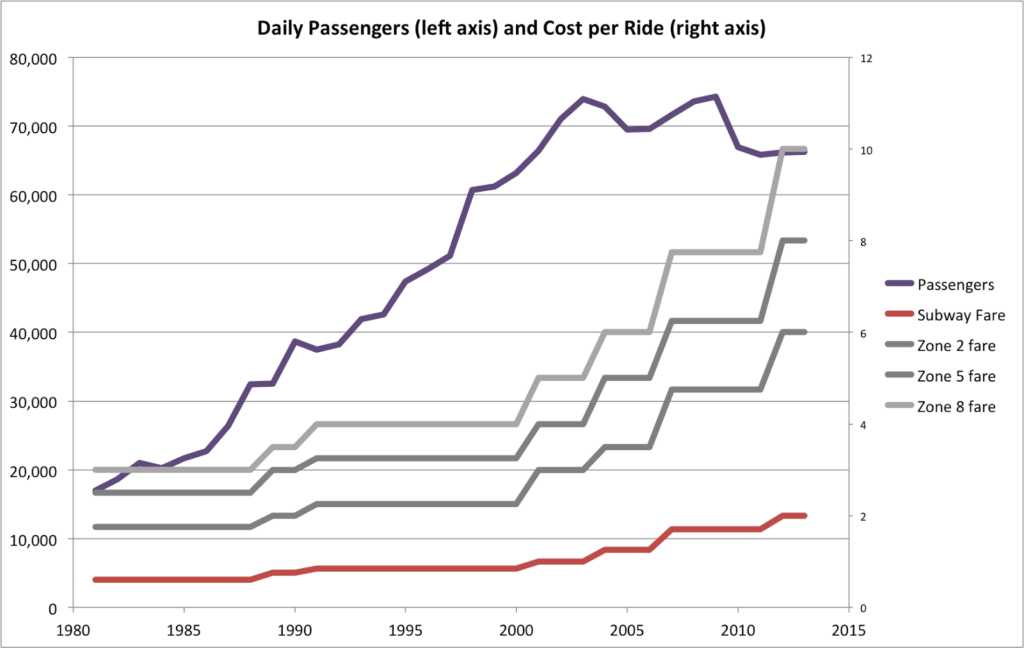 For 22 years, from 1981 to 2003, Commuter Rail traffic grew every year but one: 1991, after the collapse of the "Massachusetts Miracle." But it took off again thereafter, peaking at 74,000 daily riders in 2003.
It hasn't been that high since.
At first, flat ridership could be blamed on the early-2000s recession. But in the past 15 years, ridership has stagnated. If ridership growth had continued, linearly, at the 1981-2003 rate, it would be poised to cross the 100,000 threshold this year. Instead, the numbers of riders has barely budged, fluctuating up and down as the economy, traffic, and the price of gas has ebbed and flowed, none of them seeming to dramatically affect ridership.
Except for fares. Take a look at the chart. It certainly seems that, once fares started to rise dramatically, ridership flattened out. In the last fifteen years, commuter rail fares have gone up 250%, while they didn't rise that much in the 20 previous years (despite higher inflation). Subway fares have risen as well, but the nominal amount the fares have risen is very different.
In the '80s and '90s, a ride on the T cost 60 or 85 cents (that's a token, by the way) while Commuter Rail fares ranged from $1.75 to $3, rising to $2.25 to $4. The ratios were similar to today (the highest Commuter Rail fare about five times a subway fare), but the difference only $3. Now? The difference between a tap of a Charlie Card and a punch of a ticket is $8, which is a much greater difference.
There are two salient bits here. First, subway ridership, despite the same relative rise in fares, has seen dramatic increase in passenger counts in recent years, despite the increases in fares. At issue here is the fact that Commuter Rail and urban rail are different populations: Commuter Rail passengers have more options. Most own cars. If the cost of driving and parking is not much more than commuter rail—and parking and driving costs haven't more than doubled in the past 10 years—they are more likely to abandon the rails and head for the highways. If the MBTA provided excellent rail service, with fast speeds and reliability, this would be less of an push factor. But with old equipment and slow track, it is.
The second piece is that outside of peak travel times, the train generally can't compete with vehicles on travel time, and on weekends, on ease or cost of parking. And while many trains at rush hour are near capacity, there is plenty of capacity on off-peak and weekend trains. It's possible that if the T offered off-peak savings—say, $2 off all fares beyond zone 1A, or half off, or something—they could drive enough additional ridership to cover the lost fare revenue, all the while taking cars off the road, which is good for everyone. As would having sensible, clockface midday schedules. And it might even help ridership trends.
It's rather obvious that Commuter Rail ridership is more elastic than subway ridership: when fares go up, ridership might not go down, but previous trends level off. Since urban riders would cry foul if local fares rose faster than Commuter Rail fares (the subsidy per ride is higher for Commuter Rail riders, although the subsidy per mile is about even), increasing Commuter Rail ridership would require better service. Given the recent performance of the Commuter Rail, this may be a tall order. But it should be a goal.